Mindful Meals
A Mindful Meal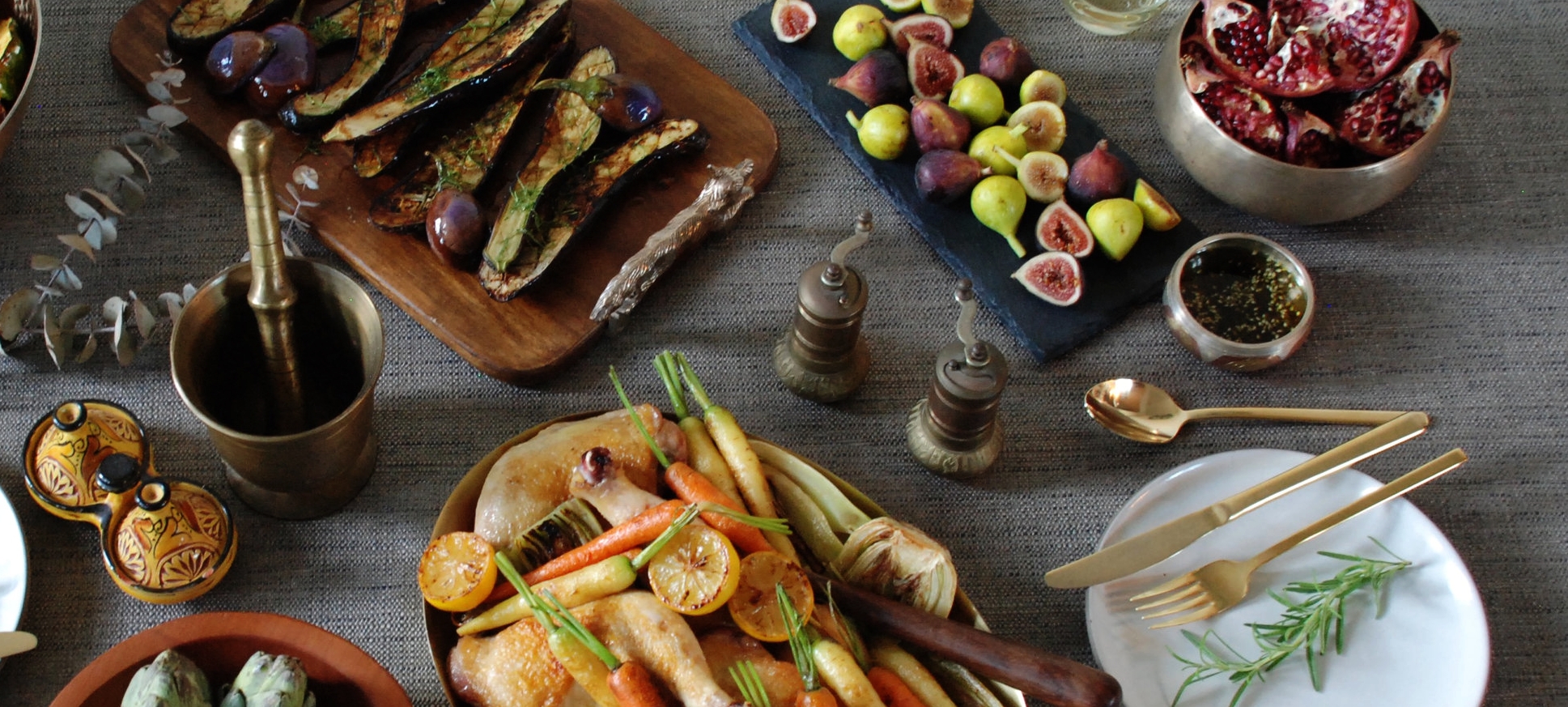 WHAT IS A MINDFUL MEAL?
A guided contemplative meal with friends old and new. This is an opportunity to be present and embrace the feeling of a shared group meal without worrying about small talk. The emphasis is on tasting, feeling, and enjoying the sensory experience of eating, from noticing the heaviness of your fork to the crunchy pop of a wheatberry.
WHAT YOU CAN EXPECT FROM ONE OF THESE DINNERS
A great meal. Dena is constantly experimenting with items found at the many farmers markets in the area, and her favorite store ever, Berkeley Bowl. She knows how to put together cohesive, thoughtful, and flavorful fare. You will be carried through an eating meditation through the mostly silent meal by a meditation guide, similar to a yoga asana flow, except instead of endless yoga pushups and sun salutes, you'll be sitting around a table nourishing yourself with a warm cozy meal. You'll be invited to sink into your chair, engage the senses, and experience the moment. See and feel what you notice and what comes up. The evening ends with a casual discussion to debrief the evening. There will be some silence, and it might feel a little awkward at times, but that is part of the point. You'll get to chat and share your thoughts and feelings at the end. Who knows what will come up for you, something will.
*We can accommodate for most allergies and dietary restrictions. Please let us know your needs in advance.
WHAT YOU WILL GET OUT OF THIS
Everyone and everyday is different, but by slowing down and turning your full intention to your surroundings, the sensory experiences of hearing and smelling your meal being prepared, and having it served, you will taste it slower and with more awareness than you typically do. New sensations will take center stage, fully tasting a strawberry for the first time, really getting to know its flavor and texture, how it feels trickling down your throat and into your digestive system. It could change your relationship to eating forever, or at least a couple hours.
HOW MANY PEOPLE ATTEND?
For now, anywhere between 6 to 16 participants. If you'd like to collaborate on a smaller or larger event, let Dena know.
WHERE ARE THESE DINNERS HELD
Various locations around Oakland and San Francisco, CA. Specific address revealed once you've booked.
HOW THIS GOT STARTED:
As a chatty people-loving-person who tends to freeze up in large social situations, she found herself getting nervous before going to dinner parties. What if it's awkward, the people aren't friendly, or the food is bad? Of course, every dinner party she's been to, no matter how painful the conversation or terrible the food, has been totally and completely fine. But she did wonder what a dining experience could be like where you just show up and aren't expected to talk, and instead sit at a table, wrapped up in a group setting, feeling like a deliberate part of something, and simply be. It wasn't until taking part in a Yoga and Mindfulness Teacher Training that she was inspired to combine her love of entertaining dinner guests and her craving for group peace and quiet into a cohesive event.
Upcoming dinners
Check back soon for calendar updates.
Private or Special Events
Interested in a private mindful/silent dinner for your office, family, or group of friends? Let us know. dena@denacooks.com, subject: mindful meals.